Maintenance
SME uses the complementarity of its know-how and the skills of its technical staff.
We offer a call-in system for on-site interventions / repairs with delays predetermined with the clients.
Our service contracts can be honored round the clock, 7 days a week depending on the requirements of the client.
Being available for your needs is our leitmotif.
Complementarity, symbiosis, availability
General electricity: periodic inspections, security block controls, electrical panel verifications.
Electronics: maintenance for access control systems, s management programs, video surveillance systems, fire detection systems, automatic doors.
Industrial Data Processing: service for TCM systems (technical centralized management), company data systems (networks, local stations, work stations) servo-control mechanisms and automations.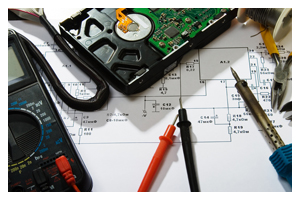 Telephony: preventive and curative maintenance.
Networks: audits by optic reflectometers and 350 MHz wirescope (industries, petrochemical sector, computer networks).
Technological Monitoring: surveillance of product evolution.
Services: Repair services upon call in requests.